What is ergonomic chair all about?
Ergonomic chair is an office chair designed to be adaptable to the user's needs. Hence, ergonomic chair is usually associated with higher productivity levels due to the customized support that it offers.
Typically office chairs are classified as ergonomic when they have functions such as adjustable seat height, seat depth, tilt adjustment, adjustable headrest, adjustable armrest, swivel function and lumbar support.
Parts of Ergonomic Chair
FIRSTLY, ADJUSTABLE SEAT HEIGHT: a seat height that ranges from about 16 to 21 inches off the floor works for most people. This allows the user to have his or her feet flat on the floor, with thighs horizontal and arms even with the height of the desk. Adjustable seat height makes it possible for the user to adjust the seat height to suit their comfort.
SECONDLY, SEAT DEPTH: Allows you to adjust the seat depth by moving the seat or backrest in and out. The seat should have enough width and depth to support any user comfortably. Usually 17-20 inches wide is the standard. The depth (from front to back of the seat) needs to be enough so that the user can sit with his or her back against the backrest of the ergonomic office chair while leaving approximately 2 to 4 inches between the back of the knees and the seat of the chair. If you are long in the thigh, seat depth adjustment will allow you to support your thighs correctly.
THIRDLY, TILT ADJUSTMENT ( RECLINED BACKREST): allows the seat to tilt forward to rotate the pelvis. Furthermore, the backrest tilt is used to relax the spine and take some pressure off discs and muscles. Hence, the backward seat tilt can be used in conjunction with the backrest tilt to relax the spine and take some pressure off discs and muscles. A quality recliner chair comes with quality tilt adjustment mechanism. Checkout more details on tilt mechanism at  Quality Ergonomic Chair.
OTHER FUNCTIONS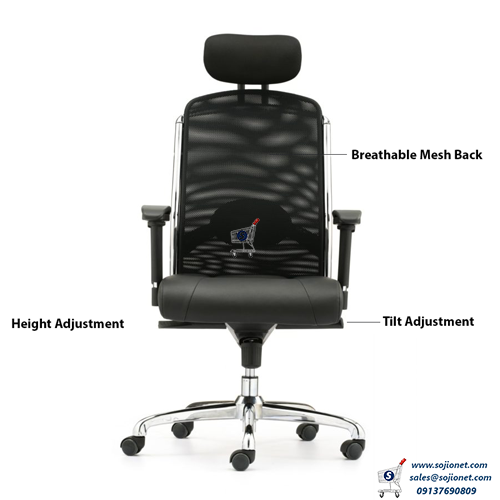 FOURTHLY, SWIVEL FUNCTION: a swivel, spiny, or revolving chair is a chair with a single central leg that allows the seat to rotate 360 degrees to the left or right.
ADJUSTABLE ARMREST: Armrests can be of particular benefit for support when typing or using the mouse. However, if they are not adjustable they will cause problems when armrests hit the edges of tables, causing users to key/mouse with a straight arm or perch on the front of the chair receiving no back support.
LUMBER SUPPORT: Gentle curves in the backrest shape or inserts into the body of the backrest. The lumbar area on our body refers to our lower back, which also happens to be a very common source of pain in today's modern workplace. Furthermore, lumbar support is intended to avoid flattening of the lumbar spine that can occur when seated, and is used best in conjunction with a tilting seat. This is why lumbar support is a critical component of any ergonomic chair. There are different types: Fixed Lumbar support; The lumbar support is fixed on the backrest.
Adjustable Lumbar support; The lumbar support can be adjusted height, depth, or firmness wise.
Dynamic Lumbar support; The lumbar support automatically adapts to your sitting posture and weight.
TILT TENSION CONTROL: used to customize the force required to tilt back. Checkout more details on tilt tension control at  Affordable Ergonomic Chair. Furthermore, take time to understand more functions below.
MORE FUNCTIONS
ADJUSTABLE HEADREST: Neck support is important in an ergonomic chair if you end to work in a leaned back position, or suffer from neck pain. For other people, a headrest on a chair can restrict movement in the upper body, such as the ability to drop the head backwards and stretch out from time to time.
FINALLY, COMFORTABLE SEAT: Considering that the seat on a chair bears most of your body weight, it should be supportive without being overly firm, soft enough but not sag. Hence, quality ergonomic chairs are made with quality seat materials, leather or fabric. Checkout more details on comfortable seat at Highly Comfortable Ergonomic Chair
Check here for many other quality, modern, affordable office chair in Lagos Nigeria. You will surely find a model that will meet your need and budget.
Thank you for reading through. Please remember to drop your comment below.