Auditorium Chair in Lagos Nigeriaor Theater seating is a style of event layout. It comprises of three seater, two seater or single seater durable auditorium chairs aligned in consecutive straight rows, generally facing a single direction. It is also sometimes called stadium seating or auditorium seating.
At sojionet, our theater seating systems offer the ultimate in style and comfort. They comes in designs that withstands the rigors of the most demanding educational and recreational environments. Furthermore, our designs are customizable; in colour, adding logo or branding, e.t.c
Types of Auditorium Chair
Auditorium chairs provides comfortable seating for long periods. They are an essential element of any public space, such as theatres, concert halls, conference centers, and lecture halls. The following are the common types of auditorium chairs:
Fixed Auditorium Chairs: These chairs are the most common type of auditorium seating and are bolted to the floor in a fixed position. They are made of sturdy materials such as steel, aluminum, or wood and are available in a variety of colors and finishes.
Retractable Auditorium Chairs: you can fold up this type of auditorium chair when not in use and are stored on a track system that can be retracted back into the wall. They are ideal for spaces that require flexibility in seating arrangements, such as multi-purpose rooms and lecture halls.
Stackable Auditorium Chairs: you can stack this type of auditorium chair on top of one another when not in use, making them ideal for spaces where storage is limited. They are lightweight and can be easily moved around to create different seating arrangements.
More types of auditorium chair
Church Auditorium Chairs: These chairs are specifically for use in church auditoriums and are typically upholstered in a fabric that is easy to clean and maintain. They often feature a built-in kneeler for prayer.
Theater Style Auditorium Chairs: These chairs are to provide maximum comfort and are often used in theaters and cinemas. They are typically upholstered with high-density foam and feature a reclining backrest.
Executive Auditorium Chairs: These chairs are for use in high-end auditoriums and conference rooms and are typically made of premium materials such as leather or wood. They often feature a range of adjustable features such as armrests, lumbar support, and headrests.
In summary, the type of auditorium chair you choose will depend on the specific needs of your space and the level of comfort and flexibility you require.
Benefits of Auditorium Chair
Auditorium chairs are designed to provide comfortable seating for large groups of people in a public space, such as an auditorium, theater, conference hall, or lecture hall. These chairs offer several benefits that make them an ideal seating option for such venues. Below are some of the benefits of auditorium chairs:
Comfort: Auditorium chairs provides maximum comfort to the users. They are ergonomically designed to support the back, neck, and shoulders. They also have padded seats and backrests that provide cushioning and comfort during extended periods of sitting.
Space-saving: Auditorium chairs are space-efficient, allowing for more seating capacity in a limited space. The chairs are typically designed with a compact footprint and can be arranged in a variety of configurations to optimize space utilization.
Easy maintenance: Auditorium chairs are made of durable materials that are easy to maintain and clean. They can withstand regular use and cleaning without showing signs of wear and tear.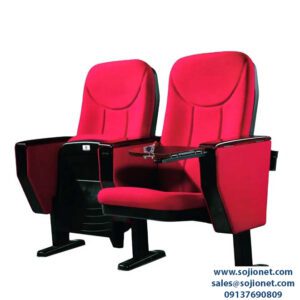 More benefits of auditorium chair
Aesthetically pleasing: Auditorium chairs are available in a variety of designs, styles, and colors to match the decor of the venue. You can customize them to suit the specific needs and preferences of the client.
Cost-effective: Auditorium chairs are a cost-effective seating solution for large venues. They are typically less expensive than traditional theater seating options and can provide seating for a larger number of people in a smaller space.
Versatility: Auditorium chairs can be used for a variety of events, including concerts, theater productions, lectures, and conferences. They can be easily rearranged or removed to accommodate different seating arrangements or events.
Standard Size of the Red and the Blue Auditorium Chair
If you are looking at setting the proper auditorium chair layout for your hall, the following will help. The size or the width of each seat is as represented below: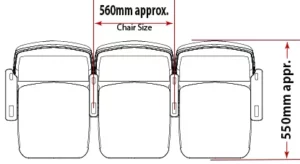 In conclusion, auditorium chair offer several benefits, including comfort, space-saving, easy maintenance, aesthetic appeal, cost-effectiveness, and versatility. These features make auditorium chairs an ideal seating solution for large public spaces.
Advice on layout:
Available configurations are three seater, two seater and single seater. Three seater is usually cheaper than the two and single seater when you consider the price per seat. Likewise, the two seater is cheaper than the single seater when you consider the price per seat. Hence, it is advisable to make use of three seater more than the two seater and also, make use of two seater more than the single seater. By so doing, you can reduce the project cost and save yourself a lot of headache.
We plan and install our own theater seating. Our planning team will be glad to help you out in terms of the dimensions or the colour scheme that you need to fit in with your existing surroundings. Furthermore, you can fix seating systems securely on to existing flat or sloped floor area as desired.
Get Huge Discount on red, blue, grey colours of three, two or single seater auditorium chair! Other colours are also available. Buy modern, quality, cheap Auditorium Chair in Lagos, Abuja, Port harcourt, Asaba, Akure, Delta, Enugu, Kano, Ibadan, Benin, Ekiti, Osun, Ondo, ibadan, Cities in Nigeria. Hence, you should take your time and check through other categories of
furniture
. Choose from a variety of quality furniture for homes, offices, schools, hospitals and hotels. Sojionet is the best place, where to buy Auditorium Chair in Lagos Nigeria. Delivery available in Abuja FCT, Kano, Asaba, Ibadan, Owerri, Jos and nationwide in the entire country.
We would be very happy to assist you on any project you're currently working on or have plan for the future. Please don't hesitate to contact us for a quote or consultation regarding our high quality, affordable, modern furniture. You can contact us via whatsapp, email or phone call. We look forward to do business with you.
Huge Discount! Buy Auditorium Chair in Lagos, Abuja, Port harcourt, Asaba, Akure, Delta, Enugu, Kano, Ibadan, Ekiti, Osun, Ondo, ibadan, Cities in Nigeria